Best Friendship Sayings and Friendship Quotes Finding a loyal friend, keep it. Best friends forever quotes about Friendship Sayings " Finding a loyal friend is a hard as finding a tear drop in the Ocean! If you have them, Cherish them!. friends quotes about friendship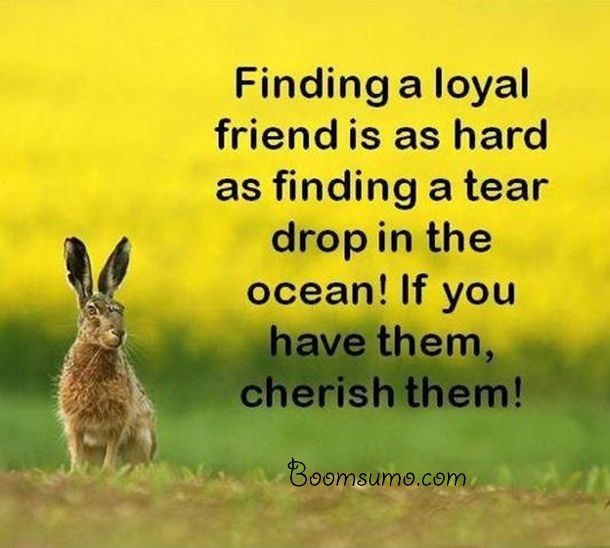 Best friendship quotes that will inspire you
1. Love is the only force capable of transforming an enemy into a friend. Martin Luther King, Jr.
2. But friendship is precious, not only in the shade, but in the sunshine of life, and thanks to a benevolent arrangement the greater part of life is sunshine. Thomas Jefferson
3. Friendship improves happiness and abates misery, by the doubling of our joy and the dividing of our grief. Marcus Tullius Cicero
4. Friendship… is not something you learn in school. But if you haven't learned the meaning of friendship, you really haven't learned anything. Muhammad Ali
5. One of the most beautiful qualities of true friendship is to understand and to be understood. Lucius Annaeus Seneca
6. I cannot even imagine where I would be today were it not for that handful of friends who have given me a heart full of joy. Let's face it, friends make life a lot more fun. Charles R. Swindoll
7. Where would you be without friends? The people to pick you up when you need lifting? We come from homes far from perfect, so you end up almost parent and sibling to your friends – your own chosen family. There's nothing like a really loyal, dependable, good friend. Nothing. Jennifer Aniston
8. Friendship is unnecessary, like philosophy, like art… It has no survival value; rather it is one of those things that give value to survival. C. S. Lewis
9. True friendship can afford true knowledge. It does not depend on darkness and ignorance. Henry David Thoreau
10. There is a magnet in your heart that will attract true friends. That magnet is unselfishness, thinking of others first; when you learn to live for others, they will live for you. Paramahansa Yogananda
Short and sweet friendship quotes friends are the family you choose
11. A friendship founded on business is better than a business founded on friendship. John D. Rockefeller
12. A true friend freely, advises justly, assists readily, adventures boldly, takes all patiently, defends courageously, and continues a friend unchangeably. William Penn
13. It is one of the blessings of old friends that you can afford to be stupid with them. Ralph Waldo Emerson
14. The real test of friendship is: can you literally do nothing with the other person? Can you enjoy those moments of life that are utterly simple? Eugene Kennedy
15. But friendship is the breathing rose, with sweets in every fold. Oliver Wendell Holmes, Sr.
16. When friendship disappears then there is a space left open to that awful loneliness of the outside world which is like the cold space between the planets. It is an air in which men perish utterly. Hilaire Belloc
17. Friends… they cherish one another's hopes. They are kind to one another's dreams. Henry David Thoreau
18. Friendship is held to be the severest test of character. It is easy, we think, to be loyal to a family and clan, whose blood is in your own veins. Charles Eastman
19. A true friend never gets in your way unless you happen to be going down. Arnold H. Glasow
20. We call that person who has lost his father, an orphan; and a widower that man who has lost his wife. But that man who has known the immense unhappiness of losing a friend, by what name do we call him? Here every language is silent and holds its peace in impotence. Joseph Roux
Best friendship quotes that make you cry – faithful friend quotes
21. In the sweetness of friendship let there be laughter, and sharing of pleasures. For in the dew of little things the heart finds its morning and is refreshed. Khalil Gibran
22. To avoid being mistaken for a sellout, I chose my friends carefully. The more politically active black students. The foreign students. The Chicanos. The Marxist professors and structural feminists and punk-rock performance poets. Barack Obama
23. Be true to yourself, help others, make each day your masterpiece, make friendship a fine art, drink deeply from good books – especially the Bible, build a shelter against a rainy day, give thanks for your blessings and pray for guidance every day. John Wooden
24. Success always necessitates a degree of ruthlessness. Given the choice of friendship or success, I'd probably choose success. Sting
25. Sincere friendship towards God, in all who believe him to be properly an intelligent, willing being, does most apparently, directly, and strongly incline to prayer; and it no less disposes the heart strongly to desire to have our infinitely glorious. Jonathan Edwards
26. A youth, when at home, should be filial and, abroad, respectful to his elders. He should be earnest and truthful. He should overflow in love to all and cultivate the friendship of the good. When he has time and opportunity, after the performance of these things, he should employ them in polite studies. Confucius
27. We will seek friendship and goodwill with the nations of the world – but we do so with the understanding that it is the right of all nations to put their own interests first. Donald Trump
28. One of the most mawkish of human delusions is the notion that friendship should be eternal, or, at all events, life-long, and that any act which puts a term to it is somehow discreditable. H. L. Mencken
29. Friendship is the marriage of the soul, and this marriage is liable to divorce. Voltaire
30. Even an animal, if you show genuine affection, gradually trust develops… If you always showing bad face and beating, how can you develop friendship? Dalai Lama
True friendship quotes – Short quotes about best friends
31. What sweetness is left in life, if you take away friendship? Robbing life of friendship is like robbing the world of the sun. A true friend is more to be esteemed than kinsfolk. Marcus Tullius Cicero
32. Friendship is two-sided. It isn't a friend just because someone's doing something nice for you. That's a nice person. There's friendship when you do for each other. It's like marriage – it's two-sided. John Wooden
33. Love is like a friendship caught on fire. In the beginning a flame, very pretty, often hot and fierce, but still only light and flickering. As love grows older, our hearts mature and our love becomes as coals, deep-burning and unquenchable. Bruce Lee
34. The fact is, with every friendship you make, and every bond of trust you establish, you are shaping the image of America projected to the rest of the world. That is so important. So when you study abroad, you're actually helping to make America stronger. Michelle Obama
35. Friendship may, and often does, grow into love, but love never subsides into friendship. Lord Byron
36. Have you ever thought how humiliating and distressing it was to be placed upon a sphere? For friendship it is a boon never to be able to be further apart than the antipodes. But suppose that you are leaving together to go on and on; it is impossible. To go beyond a certain point is to return to where you began. Pierre Teilhard de Chardin
Best friends forever quotes – best friend captions
37. Friendship is certainly the finest balm for the pangs of disappointed love. Jane Austen
38. My parents, and librarians along the way, taught me about the space between words; about the margins, where so many juicy moments of life and spirit and friendship could be found. In a library, you could find miracles and truth and you might find something that would make you laugh so hard that you get shushed, in the friendliest way. Anne Lamott
39. Friendship is the shadow of the evening, which increases with the setting sun of life. Jean de La Fontaine
40. A friendship that like love is warm; A love like friendship, steady. Thomas Moore